Pool Safety Tips
APSP Members are Committed to Pool And Spa Safety For Your Child
Swimming pools, spas, and hot tubs bring years of enjoyment.
They offer an opportunity to spend time with friends and family or to relax and relieve stress alone, while also providing many health and fitness benefits.
Westlake Pool and Spa takes pool safety seriously!
As members of The Association of Pool & Spa Professionals, we want to help consumers use their pool, spa, or hot tub responsibly.
As with many products, by following manufacturers' guidelines and simple rules, you'll have a positive, safe, enjoyable experience.
Homeowners will be glad to know that the swimming pool industry has made great strides in improving the safety of swimming pools. Non-slip surfaces reduce the likelihood of slips and falls. Fences and alarms add another layer of protection. (Most cities, in fact, have specific requirements for fencing around a swimming pool.)
APSP continually works with nationally recognized safety groups and with federal, state, and local governments to ensure consumers are protected and have the most up-to-date information on pool, spa, and hot tub safety tips.
Dual Drains
New pools should have a second drain opening at least 3 feet away from the primary drain opening. This greatly reduces the suction on either of the two drains, reducing the chance of entrapment.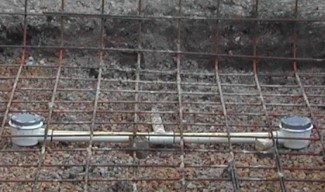 Safety Vacuum Release System
When a drain becomes blocked, the SVRS provides a rapid vacuum release. This quickly frees anyone whose body or limb is trapped on the drain. This is a good potential safety upgrade for an older pool that only has one drain. Contact us or any local pool service company if you want to add this upgrade to your pool.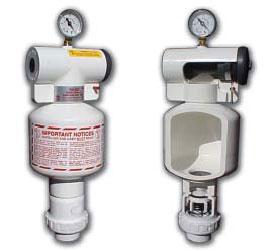 Anti-Entrapment Drain Covers
These specially designed drain covers distribute the suction into a "safe zone," making it nearly impossible for anyone to become entrapped. Standard on all new pools, these can also be retrofitted to most older swimming pools. Important — you should never let anyone enter a swimming pool that has a loose or missing drain cover. If you see a problem with your drain cover, you should close the pool and notify your builder or local pool service company right away.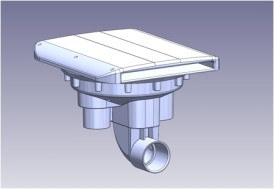 Water Safety Messages: Public Service Announcements - Video
Click here to view the Public Service TV ads and radio spots, all starring Leslie Nielsen talking about pool & spa safety tips.
Hot Tub Safety
Infants and toddlers should not be permitted in a hot tub at all as babies' thin skin makes them more susceptible to overheating. Also, since little ones have very little control over bodily functions, spas become unsanitary almost instantly when "accidents" happen.
No young child should be allowed in a hot tub until they can stand on the bottom and have their head remain completely out of the water. Children who are big enough to be in a hot tub should not use it for more than five minutes at a time, especially at the maximum temperature of 104 degrees. Dropping the spa temperature to 98 degrees would allow for longer soaks – but never more than 15 minutes at a time. It is also recommended that young children avoid full body immersion, choosing instead to sit on "jump seats" that some spas have that permit waist-high immersion.
All persons, and especially young children, should be encouraged to drink fresh water while they're soaking. If the bather feels sick to their stomach, dizzy and / or sleepy, they should exit the spa immediately.
Responsible Adult Supervision is Key to Child Pool, Hot Tub and Water Safety.
There should always be an adult designated to maintain constant visual contact with children whenever they are near, or could get near, any body of water.
Entrapment Protection:
An exposed suction outlet (drain) presents a serious danger to children and adults. All drains must be protected by an approved cover. If any outlet cover is broken, loose, or missing, the pool should be closed immediately, and an industry professional should be contacted to make the necessary repairs. For more information on how to prevent entrapment injuries, or to learn whether a pool or spa has the proper approved covers, contact us or the APSP
Layers of Protection:
In addition to supervision, APSP and Westlake Pool and Spa supports the concept of "layers of protection." This means the pool, spa, or hot tub is equipped with several devices to delay unsupervised access or warn of a child's presence. Following are some options for protecting children and preventing accidents:
Fencing: Isolate the swimming pool with a minimum four-foot-high enclosure.
Safety Covers: An impenetrable covering that completely covers the pool, spa, or hot tub will prevent access to the water when there is not supervision.
Alarms: Alarms are available for doors, fences, in pools, and as a clip-on for children. Alarms detect unwanted entrances to your pool, spa, or hot tub.
Rope and Float Line: Place these across the pool to alert swimmers to the separation of the deep end from the shallow end of the pool.
Rescue Equipment: Equipment such as a life ring and shepherd's hook should be placed near the pool in an easily accessible spot.
Posted Emergency Information: Post all CPR, other emergency information, and warning signs, as well as the emergency telephone number - 911 - near the pool, spa, or hot tub.
Outside Telephone: Be sure to have a telephone in case you need to summon help.
For more specific information and free materials, click on the following link: